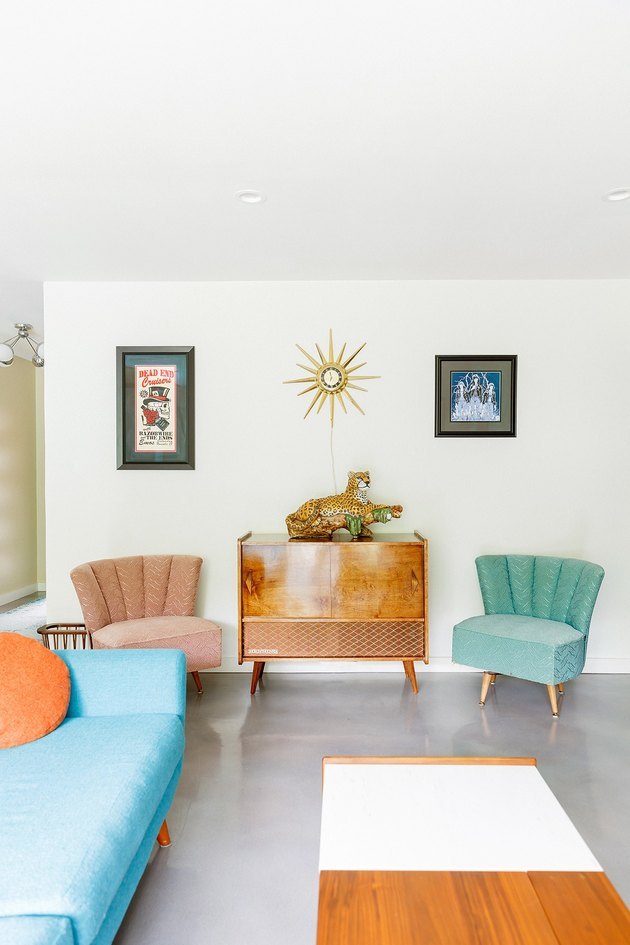 If you love Mad Men or often browse through decor sites, you can probably spot a midcentury modern piece from a mile away. Midcentury modern furniture pieces feel timeless today, but they caused quite a stir when they first debuted. Designers wanted to push the envelope when it came to design, while also keeping the pieces affordable to the average family.
Architects took a lot of risks. Midcentury modern homes were designed to feel both aesthetically pleasing and functional. Some of the structures seemed to almost float from the ground, while others reflected the nature around them in their stunning glass walls.
And decades later, midcentury modern style continues to influence artists, designers, and architects.
The Origins of Midcentury Modern Style
The Midcentury Modern style came to life around the 1940s-1960s. And while a number of highly praised designers and architects resided in the U.S., many had roots (and iconic projects) in other countries.
The end of World War II caused a shift in the economy of countries, specifically the U.S. During the war, many materials could only go towards specific efforts. Afterwards, designers got hold of them again, giving them freedom to experiment with designs. The creation of new materials also led to new design ideas; polypropylene, for example, didn't exist until 1954. British designer Robin Day used it to create his stackable chairs; they debuted in 1963 but you can probably spot them in areas like meetings halls and schools today.
These designs made an impact within homes and larger institutions. In 1941, for example, the Museum of Modern Art opened an exhibition called Organic Design in Home Furnishings. It featured a competition which included the work of influential names like Charles Eames and Eero Saarinen.
Midcentury Modern Designers and Architects
credit:
Ovs at English Wikipedia / Wikimedia Commons
Midcentury modern furniture took risks. It "became increasingly sculptural in quality," according to Dominic Bradbury, author of Mid-Century Modern Complete. A chair didn't just look like a basic chair anymore. Think of the designs we might take for granted today, like the Hanging Egg Chair. Designed in 1959 by husband-and-wife duo Nanna and Jørgen Ditzel, the chair was meant as an alternative to all the furniture legs we often see in spaces. And of course, you can probably recognize chairs designed by Ray and Charles Eames, like the RAR (Rocking Armchair Rod) chair, dating from 1948-50.
Many of the most influential names in furniture design also contributed to other creative realms such as art and architecture. Isamu Noguchi, for example, was an acclaimed sculptor. His furniture pieces followed a biomorphic design style; the fluid pieces exemplified his artistic sensibilities.
When it comes to architecture, important names like Luis Barragán, John Lautner, Eileen Gray, Greta Magnusson Grossman, and Eero Saarinen designed everything from private homes to civic buildings.These structures defied the norms of the time, opting to incorporate stunning views of the nature around them or trading traditional walls for huge, glass ones.
The Case Study House program, spearheaded by Arts & Architecturemagazine's editor and owner John Entenzo in 1945, commissioned homes from some of the most well-known names at the time. A lot of these still stand as some of the most important structures. You can currently visit a few of them, such as the Stahl House in West Hollywood, California.
Midcentury Modern Design Tips
If you find yourself inspired by the style, there are a few ways to incorporate it into your home. You can even start small: consider adding accents like wall hangings and table lamps to give your space that classic feel. Or try swapping out some of your lamp covers or dining room furniture. Geometric shapes, gold accents, and sharp angles are a few recognizable midcentury modern decor features to look for. Think modern and clean, yet welcoming and comfortable.
When it comes to your living room, try playing with natural textures, glamorous light fixtures, and subtle colors. Some of these elements can also be added to your kitchen; take it a step further by incorporating bold patterned tile (or flooring), gold hardware accents, and vintage dishware.
Give your bedroom a midcentury modern spin by incorporating geometric rugs, wood furniture, and wall hangings. For your bathroom, consider patterned tile, marble accents, and pendant lights. Make industrial materials the focus and pair them with clean lines.
Pay attention to what other elements of your home you can experiment with. If you've got a fireplace, consider giving it a midcentury modern makeover by pairing it with neutrals, sunburst wall decor, and an asymmetrical furniture layout. And for DIY project lovers, this standing planter is a great addition. Don't fret — some of our favorite spaces mix modern and vintage pieces, so you can definitely work with the decor you've already got.
Whatever your approach, keep the ethos of the style in mind as your guide: seek out sophistication but also practicality and comfort.